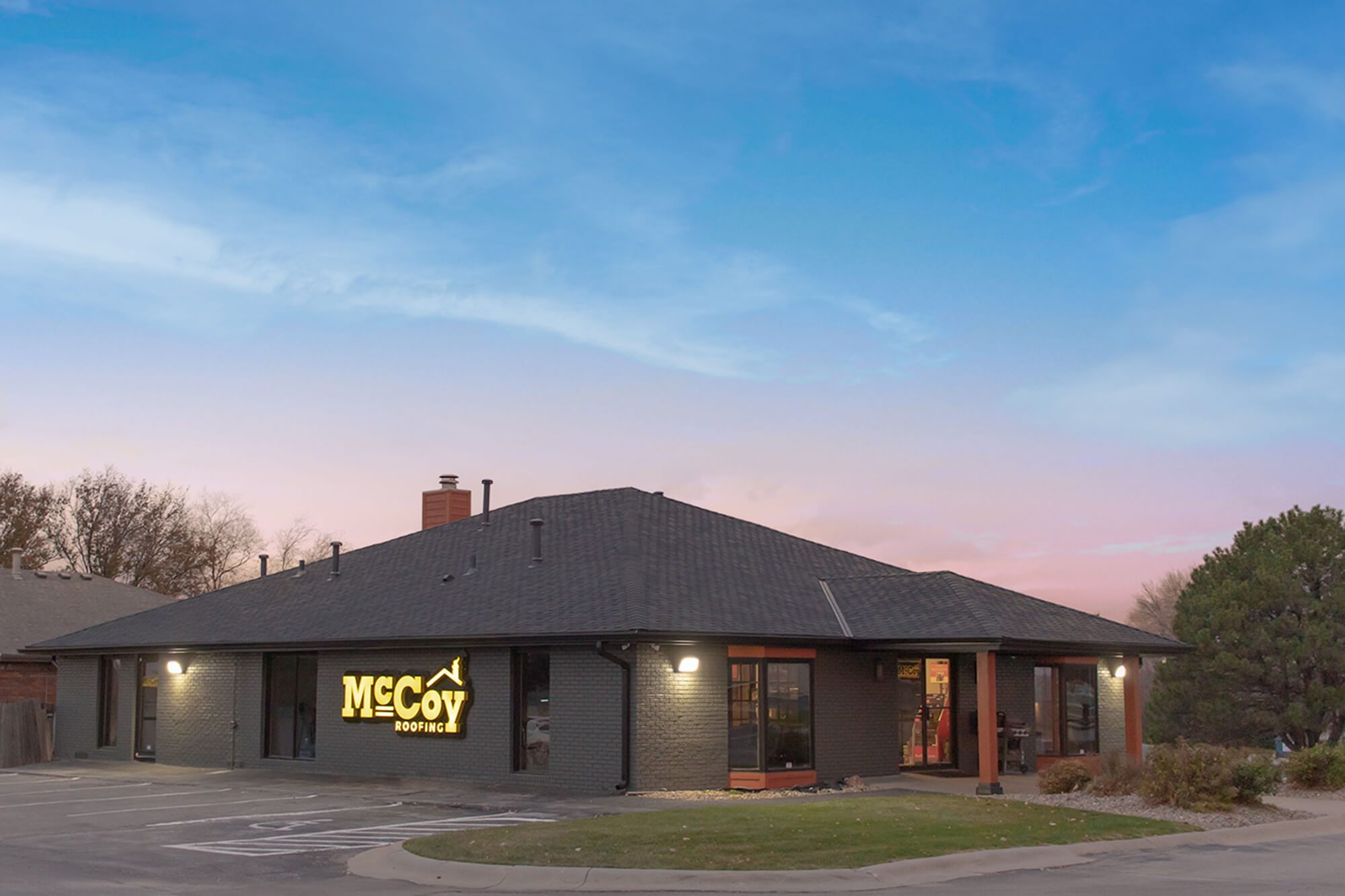 What are the different roofing types to install on my roof?
There are many different types of materials to install on your roof. Determining the type of roof to install can be daunting. The McCoy Roofing team of project managers is here to assist you in choosing the right roofing material for your home's roof replacement. If it is a simple roof repair, we can help match the new shingle material with the old.
The different types of material for your roof install are:
Asphalt
Metal Roofing
Clay Tile Roofing
Slate Roofing
DaVinci Roofing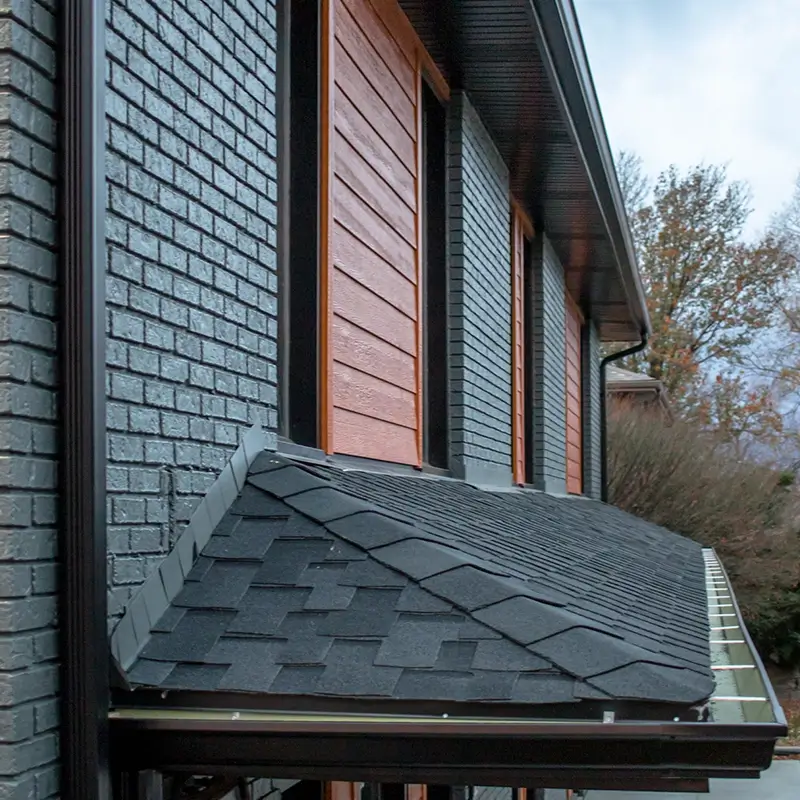 McCoy Roofing has you covered
Why quality Roofing material is essential for your roof replacement
In theory, roofs are lifetime products. But a roof hasn't been built yet that hasn't eventually needed repair or replacing. When that inevitability comes home to roost, McCoy Roofing has you covered.
No matter what type of roof you have. McCoy Roofing works with a network of trusted manufacturers and suppliers to access the specific material or system you need. Most importantly, McCoy Roofing has the experience and expertise to install your roof right the first time using McCoy's 5-step Installation Process.
Weather is a roof's biggest adversary. Hail storms and wind storms can weaken the integrity of shingles, flashing and underlay. As damage gets repeated exposure to the elements, a roof loses structural soundness. Then, it's only a matter of time before problems become more than just aesthetic and require professional attention.
"Humidity also plays a huge factor," said McCoy Roofing Co-Owner Lee McCoy, who learned the trade from his father and company founder, John McCoy. "I can't tell you how many winters and springs we get calls from people saying, 'Hey, I have leaks inside my home.'"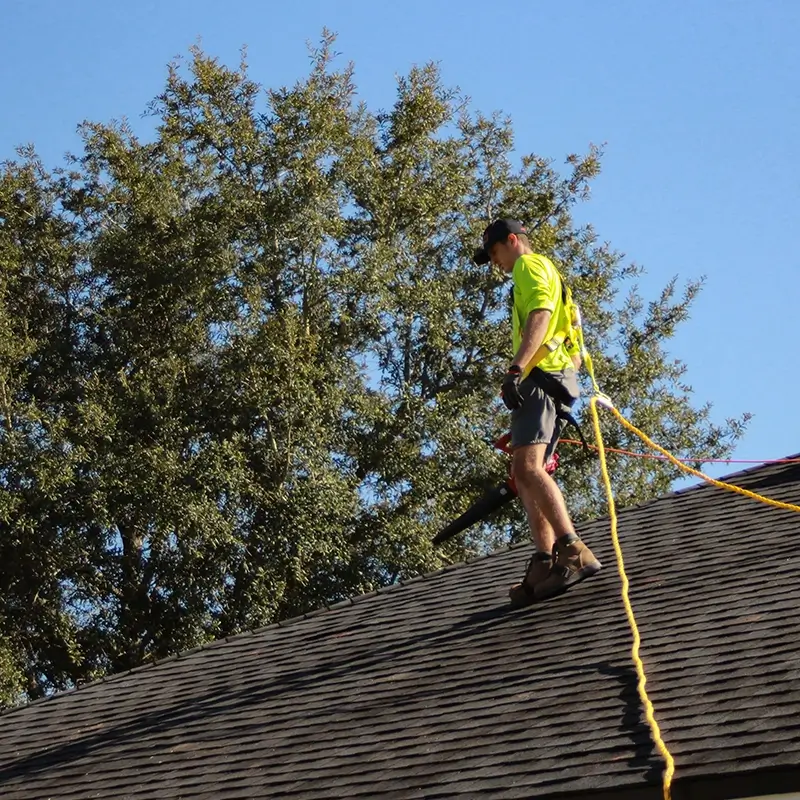 THERE ARE REASONS FOR THOSE LEAKS.
"A lot of homes in Nebraska are built poorly," McCoy said. "One of the big issues we see with humidifiers installed on furnaces, especially in two-story homes, is that when people run the furnace with the humidifier on it pumps a lot of hot moist air into the home. That hot moist air rises past the heat barrier in the attic and it condensates on the sheeting in the attic. That moisture runs down and creates leaks inside the home seen on ceilings and walls. That happens quite frequently."
Age is a culprit with any roof. After enough time, roofs tend to wear out or fall apart, regardless of the material or brand or installer.
Then there are health-safety concerns with older roofs that have asbestos shingles. By city code, McCoy Roofing cannot repair asbestos shingles in Omaha. On those homes or businesses, only new, non-asbestos roof replacements will do.
Improper installation is another factor that can greatly hasten the need for a roof's replacement. "If the roof is put on poorly, the tar strips don't line up and will never seal," McCoy said.
Just as weather is a force to be reckoned with in terms of roof durability, some conditions preclude roof work. "Asphalt roofing, in general, is a no-go in the winter months in Nebraska and the greater Midwest," Adam McCoy said. "In most cases we are shut down by Thanksgiving or a little after when it comes to installing asphalt shingle roofs."
On the other hand, he said, "we do commercial flat roofing year-round – even with the weather extremes we see here and in other parts of the country."
Choices and trends in roofing abound. McCoy Roofing will earn your trust by, first of all, only recommending a new roof if you truly need one. If you do, McCoy will simplify the array of options to help you select the right match for your home or commercial roofing needs. McCoy makes the fit based on your budget and preference, the roof's configuration (sloped or flat) and what type will complement, both functionally and aesthetically, the structure. No one-size-fits all solution exists. That's why when a McCoy representative makes an inspection and learns your situation, together you will find the best, most practical fit for your home or business and not just what's trendy.
At the same time, not all roofs are what they used to be.
"Wood roofs or shake shingle roofs are a thing of the past," Adam McCoy said. "In fact, insurance companies have quit insuring them altogether unless you're grandfathered in. Most of the roofs we're putting up today are 30-year laminate and tri-laminate asphalt roofs. We are starting to see a lot of DaVinci, which is a polymer plastic that looks like a shake or slate shingle. That's produced by a company out of Kansas City – DaVinci Roofscapes. They have really taken over the market quite a bit."
So much so that one summer Adam McCoy personally project-managed roof jobs on about 10 homes just in the Linden Estates neighborhood alone. In each case, McCoy Roofing converted the homes from wood shakes over to DaVinci, which is a lifetime polymer product.
Thus, DaVinci shake roofing is now a staple of the company's residential roof inventory. Along with copper roofing and asphalt roofing, it's becoming the go-to choice for many customers. So are Decra stone-coated steel roofing systems and concrete tile roofs.
On the commercial side, McCoy Roofing applies sloped asphalt roofing, EPDM rubber roofing systems and other flat membranes that efficiently run water off the surface.
Because roofs come in so many varieties and each material and system has its own advantages and disadvantages, customers need to know some things before hiring a contractor. In their full disclosure approach to doing business, McCoy Roofing will inform you of what you need to know before you decide.
"If you have an asphalt laminated shingle roof currently on your home," Adam McCoy, "it probably has a 30 or 40 year warranty on it. It's important you know that we're going to get a hail storm during the span of that warranty. If you end up needing a new roof and decide to go for something fancier and more expensive, there are comparable products on the market we can put on that insurance companies acknowledge as a like exchange. We do that all the time.
"But if you're an average homeowner with a 30-year laminate shingle on your roof now, you just want to go back for the same thing because ultimately we're going to get another hall storm and you're going to be replacing that roof well before that 30-year mark. A good quality laminated shingle is just fine. It looks great on just about any kind of house, any quality of home. It's a fairly inexpensive roof and it does the trick. You'll make it past the next hail storm. But just know that there's going to be hail at some point on this or any roof."
Being up front earns McCoy goodwill and business.
"We get a ton of referral business from insurance agents who ask us to go out and inspect roofs after hailstorms. By law, agents are required to tell homeowners to select three companies to look at their roof. But your agent may say, 'I recommend you call McCoy Roofing to look at your roof because McCoy will he honest with you and me about what you should do next.'"
"So a lot of our business comes from going out and doing these inspections."
McCoy Roofing's honesty is your best protection because if you're like most most homeowners you don't know if your roof is compromised or not.
"If you have a shingle roof, then you basically have a fiber glass mat covering your house. The manufacturer has soaked that mat in asphalt and coated it with colored glass granules. If a hail storm hits and the hail stones are big enough or falling fast enough or hard enough, they will knock the granules off and break the fiber glass strand in the core of the shingle and crush it. The strength of that shingle is compromised in that spot," Adam McCoy explained.
"In the short term," he said, "you should have no issues, no leaks, but what will happen is that where the fibre glass strand is broken and those granules are displaced it creates a cavity that's exposed. Over time with the freeze-thaw cycles, the weather is going right into the exposure area, ito the underpayment, and even past it in some cases – right into your deck. But that doesn't happen instantly, it happens over time.
"As a contractor we have to be responsible enough to tell people all of the facts. At the end of day, after explaining what we find and recommend, it's the homeowner's responsibility to file a claim or not. The reason why so many agents refer our company to their customers is because they trust us to deal with their customers like they would. Complete transparency."
McCoy Roofing is so trusted, he said, that "many claims adjustors who come in after a hail storm know who we are and how we do business – they know we are trustworthy." "Some adjustors," he said, "will even say,
'If you guys think there's damage. there's no argument from me,' and they'll just go ahead and write-up the roof
because they trust our judgment. They take our word."
That's why McCoy Roofing can say, "Our word is our bond," and mean it.